1993 to 2002 earning over $57,500 in NRHA Lifetime Earnings. In 2002, Nu Chex To Cash and Jessicah (Keller) Torpey, of Princeton, Ky., were awarded the NRHA Non Pro and Intermediate Non Pro Reserve World Championships and the NRHA Intermediate Open and Limited Open World Championships. In the American Quarter Horse Association (AQHA), Nu Chex To Cash earned 379 AQHA points and Superiors in Reining and Working Cow Horse. In 1999, he was the AQHA High Point Reining, Senior Reining, Working Cow Horse and Senior Working Cow Horse champion and repeated the Senior Reining High Point title in 2001.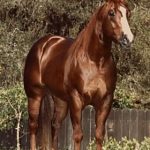 An NRCHA Hall of Fame inductee and Equi-Stat Elite $2 Million Sire
AQHA ROM. - 12 Reining points.