Miss N Cash took home merely five checks, but he amassed $124,661 in earnings between them. The largest of those paydays came at the 1987 NCHA Derby, where he won the Open with a 228 to bank $45,557. That same year, he tied for second in the Derby Open at the Tropicana Futurity and won the 4-Year-Old Open at the Reno Celebrity Derby. In the beginning of his 5-year-old season, Miss N Cash retired from the show arena and his first American Quarter Horse Association-(AQHA) registered foals were born

Miss N Cash's longstanding breeding career, his sons and daughters are still seen in performance arenas today. In 2014, 23 of his offspring accumulated $29,384 in earnings, and Equi-Stat has already recorded 10 of his foals earning a total of $21,180 this year, not including weekend money.
Miss N Cash's leading money-earner is Spookys Cash (out of San Starlight x Grays Starlight), a 1997 mare who earned $291,410 in cutting pens and has gone on to produce earners of more than $388,000. Dox Smart Buy (out of Smart Hickory x Doc's Hickory) and Faith N Risk (out of One Time Soon x Smart Little Lena) round out the stallion's top earners with $254,903 and $209,865 to their credit, respectively.
Three more Miss N Cash offspring – Dox Miss N Reno, Petty Cash 490 and Dox Diamond Cash – each surpassed the $100,000 mark in their careers. Missn No Chex, a 1997 stallion out of the Dell O Lena mare Olenas Watchfob, is Miss N Cash's highest-earning performer outside of the cutting pen with $83,844 on his Equi-Stat record. Of that total, $78,708 was garnered in reined cow horse, while $5,436 came from reining.
With total offspring earnings of $4.6 million, Miss N Cash left behind a legacy that will continue to be enjoyed for generations to come. Thanks to the prowess and speed he passed on to his foals, the late stallion's name will live on.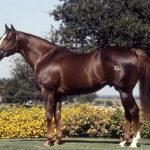 Earner of $507,689 - SI 104