Born in 1989, Rooster was bred by Harold "Spook" Stream III, of Lake Charles, Louisiana. A son of Peppy San Badger, he was out of the Doc Bar mare Doc's Starlight, who produced seven money-earning offspring with total earnings of $206,079.
Rooster only showed during his 4-year-old season, earning his first paycheck at the 1993 Abilene Winter Circuit. He went on to accumulate cutting earnings of $28,438 with Gary Bellenfant, including an $8,744 check for tying for seventh in the Derby Open at the Chisholm Trail Derby and Classic.
But it was in the breeding shed that Rooster would secure his place in history. Though he was a cutting performer, it didn't take long to discover that many of his offspring excelled in the reining pen. At the time of his death, he was an Equi-Stat Elite $3 Million Reining Sire. His sons and daughters also shined as cow horses, elevating him to Equi-Stat Elite $1 Million Reined Cow Horse Sire status, as well. Including his offspring that excelled as cutters, ranch performers and rodeo mounts, Rooster sired 505 money-earning offspring that have earned a total of $5,822,284.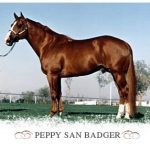 Peppy San Badger (1974–2005) was an American Quarter Horse stallion who won the National Cutting Horse Association (or NCHA) Futurity in 1977 and the NCHA Derby in 1978. He was inducted into the American Quarter Horse Association's (or AQHA) Hall of Fame in 2008.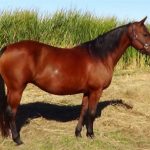 Dam-- Paddys Irish Whiskey Gallo Del Cielo