Fishers Dash, si 94, is a son of All-time Leading Sire and World Champion First Down Dash, si 105, sire of winners of more than $50 million, including 25 Champions. Fishers Dash's dam is the multiple stakes winner Fishers Favorite, si 98, $210,860, by Beduino TB.
At 2, Fishers Dash was 2nd in the Governor's Cup Futurity (behind Splash Bac) and 4th in the All American Futurity. In 1995, Fishers Dash ran the 2nd fastest 440-yard time of any 2 year-old colt in the nation. At 3, Fishers Dash placed 3rd in the Governor's Cup Derby.
Fishers Dash entered stud in 1997 after a competitive career on the major southwestern Quarter Horse circuit. His career total is $123,495.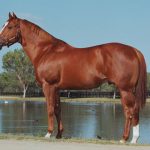 Earner of $857,256 - SI 105.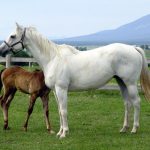 Fishers Favorite is a full sister to Bedawee, the dam of Mr Eye Opener