Docs Prescription – AQHA CHAMPION: NRHA money-earner, NCHA money-earner, Halter Point Earner, ROM Performance. OFFSPRING: World Champion Offspring,
Reserve World Champion Offspring, Superior Performance Offspring, ROM Halter Offspring, ROM Performance Offspring, NRHA Money-earners, NCHA Money-earners,
NSBA Money-earners, NRCHA Money-earners. Sire of Blue Boy Doc World Champion Sire and Shy Presription full brother to Docs Hotrodder, Docs Lynx , Docs Cupcake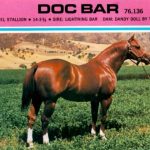 In AQHA competitions, Doc Bar's get amassed nearly 9,000 points and won multiple world championships.